Hampton here, spinning a personal message to my crew in the D.C.verse. I have always been interested in what famous comedians influenced my favorite local comics. Usually, they say "*Blank* really changed everything for me" except replace blank with a very famous comedian (Roseanne). While that's interesting, I realized recently that maybe that really isn't the biggest influence on people's comedy. I didn't really register good stand up comedy until I was about 15 years old and for years before that I was already the funniest kid on planet earth.

So something had to start me on that path, right? I can think of many non-comedian things that influenced me, but I am going to choose one for the purposes of this blog. And I would like YOU, the comedian reader, to comment and leave an influence that helped mold you; anything that isn't a comedian. Write about: a cartoon, a relative, a show, a book, a movie, a musician, an event, a comic strip, or anything that helped make you who you are. For myself I have chosen the movie Clerks.

[Read the rest, or just jump to the part where you get to talk.]




Now a lot of people don't like Kevin Smith, but that's not important. This isn't about my love of Kevin Smith, it's about how, growing up, I watched the movie Clerks. When I was around 10 years old, I hung out at my friend Nick's house close to every single weekend for about 5-6 years (free Sunny D). We would practice flips on sofa cushions and play Super Nintendo till our eyes bled pixels. And at night we would set up the TV and watch movies until we fell asleep. Nick only owned three R rated movies: Terminator 2, Highlander 2, and Clerks. I can say with all certainty that I have seen all three of these movies in the hundreds. I cannot watch any of these movies now, because now not only do I know how Terminator 2 ends I know how many times Sarah Connor blinks when the Psych Ward guard licks her face (trick question. None!). It might also interest you to know I watched Highlander 2 and Terminator 2 all those times without ever having once seen the first movies in those series. I am that cool.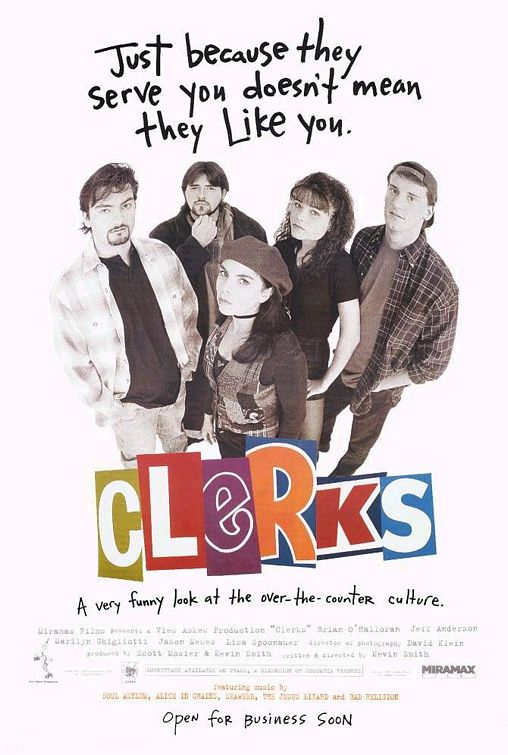 So, back to Clerks. I loved this movie. It's basically a movie where nothing happens except people talking and I, a 10 year old, was totally engrossed. Every time. I barely understood a third of what they were saying (raised Catholic, very naïve, scared of own dick) but I kept watching. Over those 6 years I understood more and more of the movie and began to appreciate it for different reasons. I think the important thing I took from that movie was the foul language.

I am completely sincere. That movie taught me how to swear. It changed how I made kids laugh. Now I wasn't just silly, but could say things that would elicit laughter. It set me on a path of passion for the well crafted sentence. When I listen to Patton Oswalt the best thing I take away from it is how he sets up his adjectives and adverbs like a composer. It's not what you say; it's how you say it.

Clerks also taught me the value of minimalism. It's about relationships and nuances. It's the details of life that make life interesting. Like I said, the story is very low key, but when you watch it go down it seems like all life depends on the end of that day. Now I admit, Clerks is not even the best example of these ideas, and when I watch it today I almost cringe, but at that time and place in my life it was a big deal. That's the real deal Holyfield.

Please share your personaly abused muse.

Show us on the blog where they touched you!